Training and Events
You know that on-going employee development is critical to your company's success, but do you know how to make that training and development a reality and effective? MEA does.
Our training, development, certification and learning programs are designed to help you motivate and retain your workforce.  And, MEA's programs can be tailored to meet the needs of your employees, management—and budget. With the exit of the Boomers and the entrance of Gen Y, the advances in technology and evolving, global economic climate, many employers are experiencing a fundamental shift in their business and workforce.  Your challenge is to bring this changing workforce, with diverse needs, up to speed.  MEA can help. MEA can create training and development programs that can be delivered on-site, on-demand or online to meet the different requirements of your workforce. Our range of services lets you create flexible programs and make the most of your training dollars. MEA has been developing programs for businesses of all sizes, in major verticals, for over 100 years. We employ state of the art technology for online learning as well as traditional classroom training and we offer a variety of programs, from strategic training plans to custom training, all designed to fit the needs of your business.
"MEA has definitely groomed me for the next level.  It has helped me grow personally and professionally.  It definitely has been a positive development in my career."
Scott Valletti
Training Catalog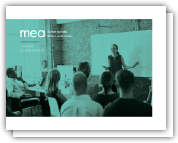 Learn more about our leadership and management training series, and the types of workshops and delivery methods available. Download Catalog
Training Services:
Calendar
View our current public training programs and events. View Calendar
Online Learning
MEA offers networked, collaborative training for multi-site businesses or companies with highly dispersed workforces. We also offer traditional convenient webinars on-demand. All of our online programs can be tailored to fit the needs of your organization. Learn More
Workshops
MEA offers workshops at our training center in King of Prussia, PA and on-site, at your facilities. Topics include management skills, computer training, and human resources. Learn More.
Briefing and Special Events
Learn more about timely topics of importance to today's workplace including OSHA, FLSA, Worker's Compensation. These are held throughout the year in our King of Prussia, PA facility. Learn More
Harassment Training
MEA offers two seminars to help you create environments free from harassment, avoiding potential litigation. Learn More
Onsite Employee Training
MEA works with you to determine training objectives and bring training to your organization. Learn More
Roundtables
MEA offers Roundtables on environmental, health, and safety; "master the tactics;" "HR business partner;" HR and benefits; and training and OD users group. Learn More
Learn how MEA's Training Solutions can Help Develop Your Workforce:
MEA Members enjoy significant discounts on training services. Learn More
View Training Calendar
More on Employee Training
Training Catalog
Learn more about our leadership and management training series, and the types of workshops and delivery methods available. Download Catalog
Training Topics
MEA offers more than 40 training workshops on a variety of HR and leadership topics. View List